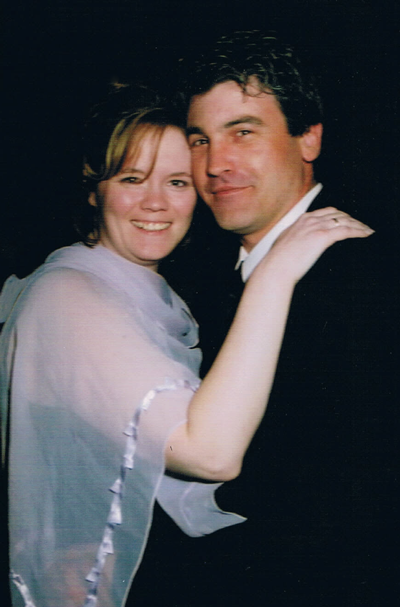 David and Chelle met in 1995 and their lives began an interesting and sometimes challenging journey towards Christ. At the time of their meeting, Chelle was attending a local Lutheran church and had a laissez-faire relationship with God while David was more in denial and often debated against the Bible. Through the twists and turns of life, both David and Chelle began seeking answers. This search eventually led them to a string of various churches and under the teachings of a variety of pastors, denominations, and doctrines.
Over the span of their lives, individually, David and Chelle attended Methodist, Lutheran, Episcopalian, Catholic, Baptist, Church of Christ, and Apostolic churches. David attended a Lutheran church for a couple of years, but ultimately stopped attending because he had so many questions that the teachers and preachers could not answer for him. This ultimately developed in an attitude of antagonism and disrespect towards all churches and ordained men of God.
Chelle, on the other hand, grew up in a variety of churches, usually dragged to and fro by her parents. It wasn't until 1991 that Chelle began to seek God and gain a better understanding of the Bible for herself, but soon abandoned Him and the church for long periods of time as life "got in the way" of her own personal pursuits and interests. Things changed a little bit after her daughter suffered a serious, life-threatening accident in 2002. She relied more on God to get her through the challenges of her daughter's recovery and began attending a Lutheran church on a more regular basis. She even enrolled her daughter in the private, Lutheran school. It was during this phase of her life that she met David.
David and Chelle suffered through several successive miscarriages. These were tough on the relationship between David and Chelle and on the relationship, loosely followed as it was, with God. At one point, Chelle had a severe crisis of faith and came to a point where she had to decide if she really believed in God at all. Through His timely intervention with a variety of sources, Chelle began to look into the Word of God more closely and began to see that some of the advice she was being given by the church was not in alignment with the Word of God. This searching of the Scriptures eventually led to a feeling of hunger and dissatisfaction with the church, leading David and Chelle to begin searching for more answers. Chelle eventually heard the message of Act 2:38 and repented, was filled with the Holy Spirit, and the baptized in the name of Jesus in 2010. God finally got David's attention for good in 2011, when he repented and was baptized in the name of Jesus, and filled with the Holy Spirit, also in accordance to Acts 2:38.
David and Chelle relocated to Marion, Wisconsin in 2011 and began attending a local church. Initially, both of them were busy with life in general and became active in almost every ministry the church offered. Over time, though, both began to question some of the teachings and sermons being preached. Once again, but together, David and Chelle began searching the Scriptures for what God really says. After making the tough decision to leave the local church over issues of doctrine, denominationalism, and standards, David and Chelle decided to start a ministry of their own and Learning to Live God's Way was developed.
Today, David and Chelle work hand-in-hand to create and distribute "White Papers" that show the research that they have either done themselves or accumulated using myriad reference materials. These White Papers are posted to the blog and shared in accordance to Mark 13:10, which states, "And the gospel must first be published among all nations." Every effort is made to be as thorough as possible, always trying to keep in mind the various biases and doctrines that they have been exposed to during their search for God. Every topic, sermon, or question is researched...with an open mind, an open heart, and a teachable spirit; and of course, an open Bible.